Effectively Using Testimonials for Patients
June 15, 2022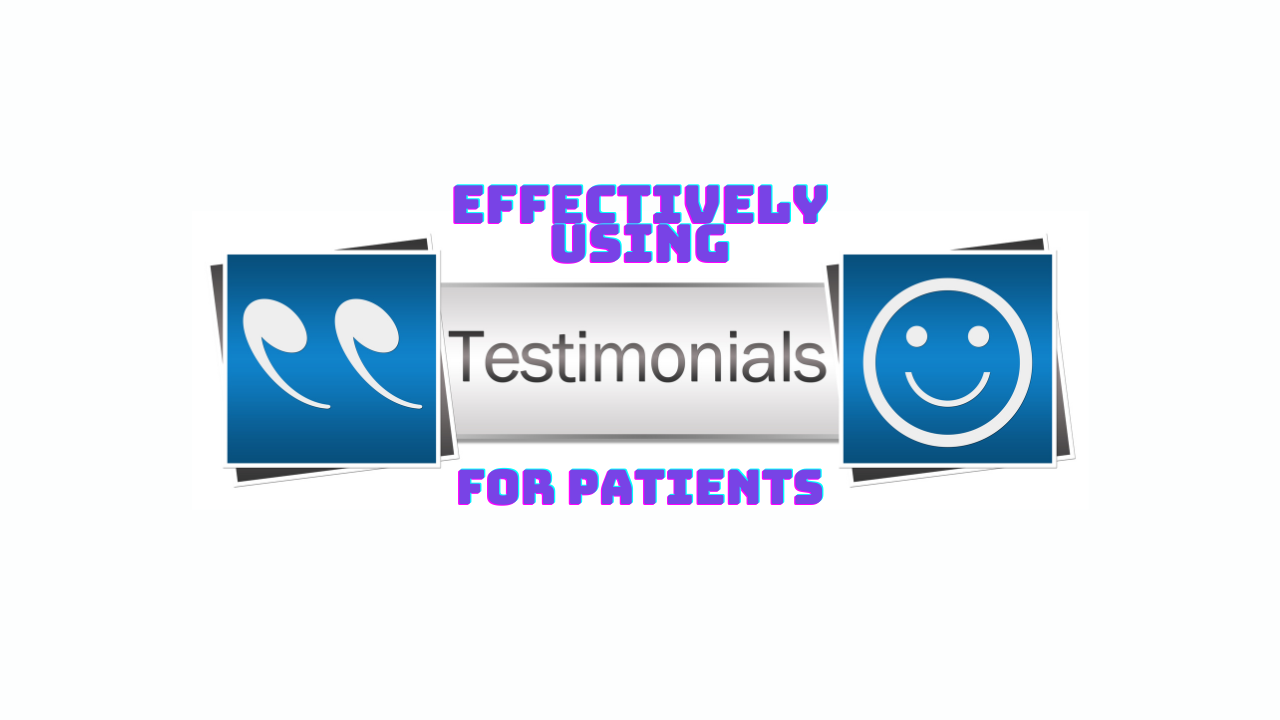 Your patients are your best source for referrals. These patients know you, your staff and they're happy with their results, meaning they give potential patients a good sense of how others suffering the same ailments were treated. Testimonials are a way for medical practices to say to potential patients, "Do not take our word for it; look at what our patients are saying about us."
Patient testimonials are one of the most powerful ways to earn trust and attract new patients to your practice, and they are believed to have the highest effectiveness rating for content marketing.
So, how do you create an effective patient testimonial program? It's going to require careful planning and insight. First, ensure that you have the proper legal release forms that authorize each patient testimonial for use in marketing campaigns across all major media types – print, video and audio. Second, build an internal system to capture positive patient experiences. Ideally, patient experiences should be structured to capture the chronological steps before, during and after surgery. Highlighting improvements in a patient's quality of life are especially effective.
5 Helpful Tips for Creating Your Patient Testimonial Program
Don't be afraid – The process leading up to asking a patient for a testimonial can be unsettling. If you are uncomfortable asking for patient testimonials, ask yourself these questions: Am I a good physician? Do my services help others? Do people regularly compliment me on my office, staff or bedside manner? If so, potential patients deserve to know about your attentive care.
Make it Easy for the Patient – A small percentage of your happy patients will take the time and make the effort to review your practice on sites like Google, Vitals or Yelp, without being prompted; but an even larger percentage are more likely to do so only if you pave the way and make the process as easy and convenient as possible. Even providing examples of other patient testimonials, that they can use as a model to help write their own testimonial. Also, you can engage your past and current patients through targeted Facebook posts asking for feedback about their experiences with your staff, office or providers.
Automate the Process – The most critical time to reach out to a patient is within 48 hours of their most recent visit. The best way to quickly engage recent patients is through email. Make it a habit to collect and update patient email addresses. Potentially, use a practice management software and email server client to automatically email recent patients a personalized follow up letter from the physician. Making these efforts within a 48-hour timeframe also allows for you or your staff to identify and address any potential issues before the patient leaves a negative review.
Include Your Team – Any team member who interacts with patients is pegged with the responsibility of being a representative of your brand. Explain the testimonial process to your medical and front office staff so they can begin talking with patients about the program. One way to ensure employee buy-in is to create an incentive program or competition to encourage proactive efforts in securing testimonial providing patients.
Bragging Rights – Incorporating positive patient testimonials in your marketing and throughout your facility using pictures, printed material and video will help communicate to your prospective and current patients that positive patient outcomes are of utmost importance to your practice.
Elements of a Strong Testimonial
Incorporate the patient personality to make it relatable and authentic.
Answer the right questions and provide specific details.
Target long-time patients that loved their experiences.
Consider your audience by providing testimonials from patients that look like your typical patient base.
Perhaps most importantly, clearly define the issue the patient needed resolved, followed by definitive verification that you or your practice led to the resolution.
Promoting and Growing Your Testimonials – Any Way Possible
Place them prominently throughout your website in blogs, or even a dedicated testimonial section.
Expand upon your website exposure to include in all social media channels, email newsletters and other print materials.
Use graphic designs for posters in-office materials and testimonial ad campaigns.
Create a personal connection with truthful and genuine video testimonials that cover specific details of the practice and the start to finish processes they went through.
In short, patient testimonials are a fundamental key to growing your medical practice and giving it the kind of positive exposure that you work so hard for. And don't be hesitant to use them in every way imaginable, as a strong patient testimonial is likely the most effective way to establish trust with potential clients and create that continuous flow of new patients