Responding to Patient Reviews
May 17, 2022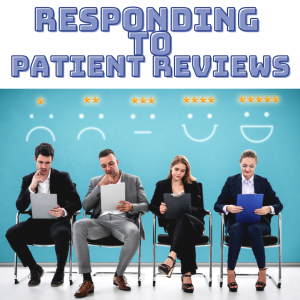 As responses are one of the foundations of review management, plan for common situations in advance so that you know your team is ready to stay on message. You'll want to draw up a document of items frequently mentioned in reviews and the corresponding appropriate responses. If you're stuck with coming up with new scenarios, ask your customer support team or whoever runs the frontline with customers. Preparation for these scenarios is key to maintaining your composure if and when an issue arises.
In crafting responses, these are important tips and thought processes to keep in mind. While a response may be directed to a particular patient, your future customers will be reading it too.
How to Respond to a Positive Review
Pat yourself on the back for a job well done.
Respond to the customer.
Make it personal.
Take advantage of free advertising.
Share the love. Consider incorporating the review on your website's testimonials page, in email newsletters, or sharing the review on your social media channels with proper consent.
How to Respond to a Negative Review:
You might be surprised to learn that when someone comes across a bad review, they will spend around five times longer exploring or browsing the website. Consider empathizing and owning the issue (in that order) at the start of your response. This approach will humanize you and help to disarm the disgruntled patient, hopefully leaving them open to a reasonable resolution.
Don't take it personally.
Respond as quickly as you can.
the reviewer a private message at first (if this is an option on that particular platform).
Have sample responses ready, but personalize them.
Address any factual errors.
Be human.
Make it up to them, if you can.
Respond with the particular platform's best practices in mind.
Keep the positive reviews coming.
Outline how you are improving the experience – This will show potential patients that you are actively making an effort to listen to feedback and improve customer experience.
Regardless of how positive or negative a review is, responses should be top of mind. When reading a critique of your business, you may feel attacked and frustrated that the patient doesn't understand you. Setting aside the frustration can open the door to connection.
Of course, there are times when responding to a review may only make things worse. You certainly don't need to get into a virtual shouting match with the whole world able to see it. While you may be right, you'll rarely win in the grand scheme.
Conclusion
When it comes to writing online reviews, patients have a lot of power and physicians' hands are tied behind their backs. But with the right tools, preparation and knowledge, medical practices also have the power to change brand perception in a positive way.
Acknowledging and responding to online reviews, good and bad, not only strengthen your brand's online image but also gets folded into social media engagement. Social customer care and online review management go hand in hand. Master these two and you'll have an excellent strategy.
Famed author and journalist, Ernest Hemingway, put it perfectly when he once said:
"I like to listen. I have learned a great deal from listening carefully. Most people never listen."