Soliciting & Managing Customer Reviews
April 23, 2022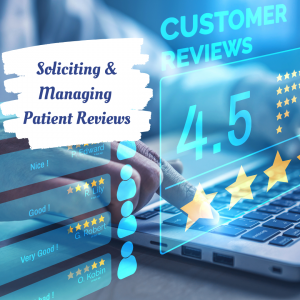 Have you ever searched online for a local business and chosen one without considering its star rating or how many reviews the business has?
In this "Age of Information", the answer is likely no. In fact, studies show that 95% of customers read reviews before making a purchase or interacting with a business. Online reviews are more important than ever to brands online, as they've only become more accessible with the proliferation of mobile apps and the addition of readily visible ratings in search results.
From a medical practice's perspective, a review management strategy is an important piece of your overall marketing strategy. It's necessary to maintain your brand's image, which directly affects potential patients. Reputation management is maintaining the consumer's perception of a brand, and falls under this larger umbrella of Customer Review Management. Reviews can also offer you an opportunity to identify flaws in your practice.
Before we get into the details of how to develop a process to manage online reviews, let's quickly take note of your primary objectives:
Quickly and fairly respond to negative reviews.
Show potential customers that you care about their feedback.
Make any necessary adjustments to your business in response to common themes in reviews.
Encourage glowing testimonials.
The Review Management Umbrella also covers: listings management, social media and search engine visibility,  review marketing and generation strategies, also. Developing your practice's review management strategy is the first step.
For your marketing and communications to hold any weight, transparency is key. And, that means dealing with ALL public customer reviews – even the negative or fake ones.
Just as you keep on top of your social media messages and engage back, replying to reviews helps build trust and repeat business for your brand. No matter what the tone or content of a review is, it's a best practice to always respond.
Part of your strategy could include implementing software that allows you to manage reviews of multiple platforms from one single dashboard or platform. This saves time spent manually sifting through and responding to reviews on each site.
You also want to collect reviews from all patients, or as many as are willing to provide one. Unfortunately, the customers who are most likely to leave reviews on their own are those who feel that they've had negative experiences. To get more balanced feedback, it's important to solicit reviews from your entire customer base through direct email and text requests.
Some of the best practices around soliciting reviews include:
Asking a small, select group of customers to leave a review at a time, so that reviews don't get filtered.
Set up a routine so that you continually and gradually build up a number of reviews.
Avoiding promising any rewards for leaving a review.
Make it easy for customers to review you.
Avoid asking customers to review you on Yelp. Yelp prohibits companies from directly requesting reviews, so avoid this practice for this site.
Next, you want to know how to leverage your review management plan into improving your practice's brand image and overall operation. Some of these ideas include:
Actively managing your reviews allows you to find positive reviews and testimonials to use as user-generated content (UGC) in your marketing strategy. In fact, most consumers say UGC holds more influence over their decisions than promotional emails and search engine results
Add testimonials, reviews, and ratings to your paid ad communications to validate your performance as a brand and encourage more engagement.
Placing a review tab or widget on your website so people can view your positive reviews and feedback with ease. Make them almost impossible to miss!
Share positive consumer testimonials along with attention-grabbing imagery across your most-engaged social media platforms.
Once you've developed your strategy, now you can start implementing it. To do so, you need to identify the networks that you want to focus on. The fastest way to do this is to perform an audit of each review network you can think of and explore how many reviews are left there. You could either look at how many your business currently gets on a given site, or how well your niche is represented there. It doesn't matter if you're actively managing your presence on these review networks or not. People will leave reviews regardless of your brand presence. The trick is to identify which ones matter to you the most. Google Business Profile is important across industries but is particularly important for smaller, local businesses. Healthcare review sites include Zocdoc, WebMD, Google, and Facebook.
As responses are the foundation of review management, plan for common review situations in advance so that you know your team is ready to stay on message. You'll want to draw up a document of items frequently mentioned in reviews and the corresponding appropriate responses. If you're stuck with coming up with new scenarios, ask your customer support team or whoever runs the frontline with customers. Ask not just for the common scenarios, but also for the unique ones. Preparation for these scenarios is key so you don't feel lash out defensively if and when a crisis comes up.
In crafting responses, these are important tips and thought processes to keep in mind. While a response may be directed to a customer, your future customers will be reading it also.
How to Respond to a Positive Review
Pat yourself on the back for a job well done.
Respond to the customer.
Make it personal.
Take advantage of free advertising.
Share the love. Consider incorporating the review on your website's testimonials page, in email newsletters or sharing the review on your social media channels.
How to Respond to a Negative Review:
You might be surprised to learn that when someone comes across a bad review, they will spend around five times longer exploring or browsing the website. Apologize, empathize, and own the issue (in that order) at the start of your response. This approach will humanize your brand and help to disarm the disgruntled customer, leaving them open to a reasonable resolution.
Don't take it personally.
Respond as quickly as you can.
Respond privately first, if you can. Send the reviewer a private message at first (if this is an option on that particular platform).
Have sample responses ready, but personalize them.
Address any factual errors.
Be human.
Make it up to the customer, if you can.
Respond with the particular platform's best practices in mind.
Keep the positive reviews coming.
Take the discussion offline – provide an email address or phone number where the customer can get in touch with you.
Outline how you are improving the experience – This will show potential customers that you are actively making an effort to listen to feedback and improve customer experience.
Regardless of how positive or negative a review is, each customer deserves to be responded to. When reading a critique of your business, you may feel attacked and frustrated that the customer doesn't understand you. Setting aside the frustration can open the door to connection.
Conclusion
When it comes to writing online reviews, customers have a lot of power. But with the right tools, preparation and knowledge, medical practices also have the power to change brand perception in a positive way.
Acknowledging and responding to online reviews, good and bad, not only strengthen your brand's online image, but also gets folded into social media engagement. Social customer care and online review management go hand in hand. Master these two and you'll have an excellent customer care strategy.
Famed author and journalist, Ernest Hemingway, put it perfectly, when he once said:
"I like to listen. I have learned a great deal from listening carefully. Most people never listen."