The Power of Online Webinars & Seminars
December 21, 2021
Seminars, conferences and other physical in-person events likely filled your calendar. They were seen as integral sources of brand building, customer interfacing, and industry-wide networking. But now, in our technology-rich world, the seminar has given way to the webinar. And in a post-pandemic COVID world, online interaction is becoming even more powerful and necessary.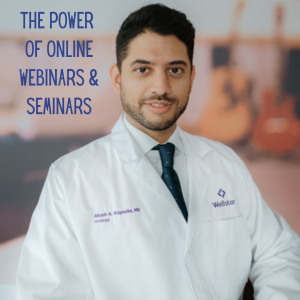 In today's world, you are expected to have a website, a social media presence and some video – at minimum. But what has and always will be a primary focus, and challenge, in building a practice is facetime with potential partners/customers/patients. Ultimately, there are inconveniences often preventing these meetings. Whether it be scheduling, traveling, location or cost. 
These simple challenges are making webinars just as important as websites and blogs. And the key to the power of a webinar is its ability to offset each of these roadblocks by affordably gathering people from across town, the country, or even the globe. 
So, you ask how a webinar can work for you? It's simple:
Quickly spread a wealth of information about you and your practice 

Establish your practice as a trustworthy authority in the specific space

Boost exposure and brand awareness

Enhance your audience and allow for greater patient interaction

Demonstrate products and services and promote conversation about them
When properly marketed to current and potential patients, we have seen the hallmark of success in the form of exceptional conversion-to-consultation rates. Further, by recording and providing these webinars on-demand, patients have yet another way to connect with you.
What do you need to launch your first webinar? Create a simple checklist:
Choose the right Webinar platform (there are many)

Set your webinar goals

Understand your target audience

Choose a topic 

Create a catchy title to accompany compelling content

Content must be informative and clearly state the solution for the participants

Keep it timely, but allow for a Q&A session at the end of the presentation
In fact, we've recently helped market successful webinars including one for Dr. Akash Kapadia, a urologist and men's health specialist in Atlanta (@atlantaurologist). We were excited to work with Dr. Kapadia and Boston Scientific's (@BSCMensUrology) team to promote penile prostheses for ED treatment.
Webinars are the events of the future. In fact, in just the last two years, as the COVID pandemic hit, conference and meeting platforms have enhanced their webinar capabilities to meet the demand. We are closer to true face-to-face meetings than ever before.
As much as technology will improve the webinar experience, always remember, the very best webinars are those That engage patients, make them feel more comfortable with you and your practice and ultimately address their questions fully, but concisely. 
If you would like to discuss recording, distributing and marketing an online educational webinar, please CLICK HERE to learn how we can offer you a disease solution to increase patient consultations.